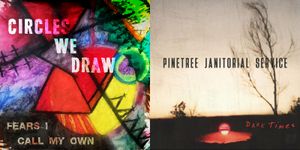 On October 29th, Kinda Vague Records will release its first two singles: "Fears I Call My Own" by Circles We Draw and "Dark Times" by Pinetree Janitorial Service.
"Fears I Call My Own", the debut effort from Circles We Draw, delivers subtly optimistic and philosophical lyrics behind an upbeat rock tune and catchy refrain.

"Dark Times", the follow-up single to Pinetree Janitorial Service's debut EP, features folk wordplay giving way to an extended solo of swirling guitars.